Shaun Cobb
Fry
Member Since :
2012
Number of Posts : 15
Property :
Home Place Lake: Heartland 10-10 Ranch, Marshall
1st trip to Heartland with 9 lb+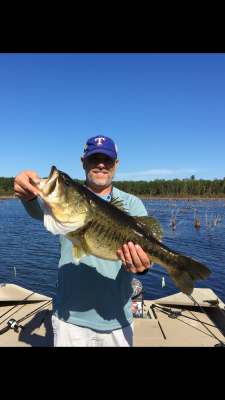 Wow was all we could say as we entered the property, this property is why John Kirby and I joined. We had the pleasure of fishing this past Sunday at Home Place and we could have literally spent days throwing at timber. The cabins were full with hunters so we stayed off the highway in Marshall, lots of options if you have to do the same. We look forward to going back next spring and plan on staying at the cabins.
Our big fish was this 9lb beauty! The fun part was this fish came on my lightest setup which made for a great fight and a few choice words before landing!
All in all this is a great property and we both look forward to fishing here again and exploring the other lakes at 10-10 Ranch.
Posted By: Shaun Cobb