May 15 2017
Tom Dillon
Toad
After my last "big ones got away" fiasco at Cody Ranch's Twin Lakes, I just had to go back and try to redeem myself. I started at North Twin at 6:15 a.m, moved to the south lake at noon to fish the Solunar major period, and finished the day at North Twin at 8:00 p.m. A long day, but it was worth it.
At North Twin, the water temp climbed from 72.6 at dawn to 73.5 by noon. I didn't pay any attention to it in the afternoon. The Coontail is almost at the surface over most of the lake except in and near the old creek channel. The American Pondweed is at the surface in many places, the Water Shield (dollar pads) is stable, and the 'snot grass' is starting to appear. Visibility on the north lake was about 16-18",
At South Twin, the water temp at noon was 74.5 and climbed a couple of tenths in the three hours I spent there. The dollar pads are getting very thick in their usual places, but the big "regular" lily pads are just starting to surface and open. There were almost none back in the creek.
The day started out dead calm, so I decided to start with a topwater. I caught a 2-09 on my first cast, but that was it. It hit a bone Yellow Magic on the dam. I finally ended my long "can't land a big bass" dry spell when a good sized fish picked up my 5" black/blue flake, unweighted, wacky-rigged Senko. I was "deadsticking" the Senko on a size 4 weedless wacky hook, 10# Sufix braid, and a 12# blue Stren mono leader. I'm sure glad that Alberto knot held. She made two strong and long runs against the drag on my spinning reel, and even wrapped me up once, but I was able to get the line free. She did jump once in spite of everything I did to prevent it. Somehow, I got the net under her and put her on the scales: 8-08. Not nearly big enough for this year's contest, but she was a real toad: 22 inches long with a girth of 18 7/8 inches. She looked like a monster when she jumped, and a football in the boat. I took a few fast iPhone photos and watched her swim away. I also caught a 6-04, but it was anticlimactic. Surprisingly to me, both of those fish were caught from the NORTH Lake. My biggest on the south lake was a 3+. I did miss another fish around 5:00 on the north lake in the exact place where the big one hit – mental lapse on my part. I'm wondering if I stumbled into a bed, and the female hit first. Could those fish just now be spawning?
In addition to those two, I caught 28 more – details below.
THE STATS:
What worked: the Senko mentioned above and a watermelon/red flake one, also weightless and wacky-rigged; the Yellow Magic; a chartreuse/chrome/red throat Rattletrap; a "California" (red flake) Pit Boss; the bladed jig and trailer I used last trip (photo in that report); a white hollow body frog; a leopard-patterned/white belly hollow body popping frog; a silver/dark grey back Ribbit frog, and a black/blue 1.4 oz jig with a black pork split-tail eel trailer.
What didn't work: buzz bait, anything T-rigged.
Number of bass < 14": North Twin – 4; South Twin – 2
Number of bass > 14": N – 21; S – 3
Totals: N -25; S – 5
Daily Total: 30
Best lures: By far, the Senko and the bladed jig with trailer (bladed jig worked mostly at North Twin)
Lures lost: 17, counting Senkos.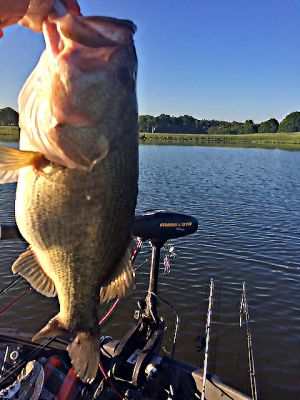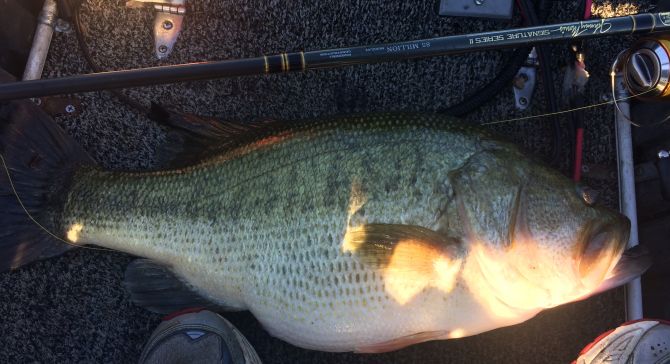 Posted By: Tom Dillon