May 30 2019
Jim Bennett
Slot Fish
…10+ inchers that is….This was half day 1 of our 4 day Memorial weekend trip to Crockett area lakes, my 11 YO son and I. We fished 4 lakes in total, each a little different. Boatwright is a gorgeous clear water lake laid out perfectly for bass. I spoke to the owner, and he is frustrated with its current situation, loaded with dink bass and no one seems interested in the 1+ pound bluegill. The BG fillets are bigger than the avg bass.
He encouraged fly fishers to bring their poppers and wooly buggers. At end of day we dropped crappie jigs doped with slim jim grease and caught monster bluegill all around the gazebo. Kept a couple that went 1.25 lbs.
As far as the bass fishing we started at midday, and did well with most all of the usual arsenal, senkos, chatter, poppers. Only one bass at 16" released, the rest were 35 culls at 10-13". Interesting thing, I caught a small "black bass" which was the blackest bass I have ever seen (see picks below). It was only 9" long but so unique we tossed it back. Has anyone ever seen such a bass?
Very nice lake with great structure, has been overrun with dink bass but has some massive bluegill that can be caught readily on a "cornfly" or slim jim nibbles. Very enjoyable lake to fish.
Blackest bass ever: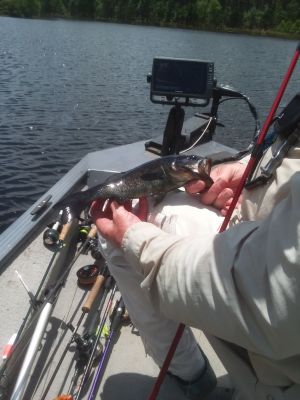 Cull at Boatwright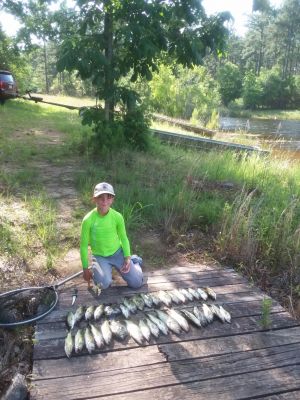 1.25 lb bluegill