Jul 01 2019
Jim Bennett
Slot Fish
Reservation Number : 21694
Property Name : Northeast Lake
Reservation Date : 06/29/2019 PM - 06/30/2019 AM
Total Fish/Sizes : 14 total 5.5, 4.9, 4.5, 4.3, 4.1, and 9@ 2-3 lbs
Lures Used : chatterbaits, senkos, popper
My report is the same as several others have reported for this trip. All of the fish were caught in the Northeast corner, between the spillway and the grassy strip straight across from the launch. We tried all other areas but not a bite anywhere else.
We fished Sat PM-Sun AM and landed 9 on the first eve, and 5 the next morning before 9am, quit at 10: lack of bites and too muggy!. Landed 14 total: 5.5, 4.9, 4.5, 4.4, 4.1, and 9@ 2-3 lbs. As per usual, my 11 YO son landed the biggest on a white tilapia senko. Pic below. We averaged just over one fish per hour fished, so a bit slow, but they were all good sized and hard fighters. We did see the massive tilapia and a few shad schools as others have reported.
The lake was murky 12" vis, surf temps 80-92 deg. I was expecting more moss, but relatively little moss present and most of it was black and dying, I guess because the murky water and lack of sunlight.
Nice lake, good access, nice cabin with cool A/C. Tip: the cabin key is behind the coffee cans to the left of the door. No instructions were left on this so you just have to pick the correct can.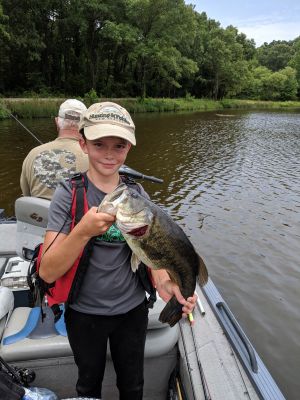 I just wanted to add, we visited the TPWD fisheries center in Athens. You definitely want to visit this during the SCUBA feeding session. They have a 17 lb share lunker that eats 5" live bluegill like peanuts. Very interesting to watch the bigger fish let the small bluegill go past and wait for the bigger ones to pop out of the sack. Lots of other fish and museum to check out.