Nov 18 2019
Jim Bennett
Slot Fish
Reservation Number : 22477
Property Name : Bennett Lake
Reservation Date : 11/16/2019 PM -
Total Fish/Sizes : 6 at 3-4lbs, 11 culls under 14"
Lures Used : deep rapala, swim jig

We had a great day of fishing on Sat 12-4 pm. As noted in previous reports the bass (and crappie) were after the shad in the middle of the lake. We landed 17 bass and two slab crappie (pics below). Largest 6 released were 16-19", largest was just over 4lbs. The remaining 11 were 10-14" culls.
It started off slow as the water was 49 deg at noon. After a couple of hours of good sunlight, the surface water warmed to mid 50s. That must have triggered the activity and the chase was on.
Technique was to troll around in 14-20 ft of water, cast far, let swim jigs fall to bottom, reel in as fast as possible. We did not really have to chase the shad, as we could just cast anywhere in the open deep area and get bitten. I caught all of mine on a deep rapala. Sam scored with a 4" shad swim bait with underspin.
Spotted two river otters playing all afternoon. I hope they don't eat all of the bass. Another funny thing, acorns were falling onto the shed roof and sounded like 22 rounds all afternoon. Otherwise dead quiet.
Thankful for a wonderful day of fishing with my son on an excellent lake.
Sam wrestling a 4 lber.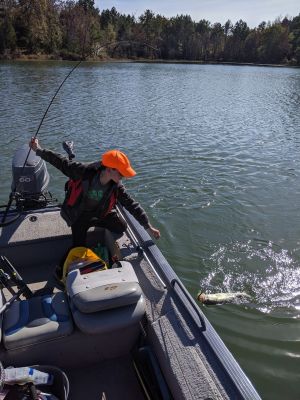 Nice evening with shad blowing up in top left distance (hard to see but you could hear it!).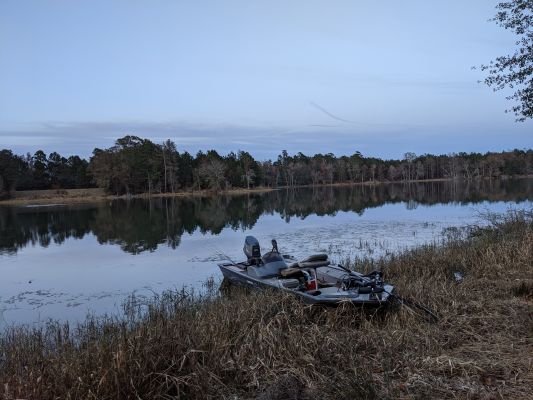 Slab crappie for supper: