Jim Bennett
Slot Fish
Member Since :
2019
Number of Posts : 100
Property :
Julian Lake, Leesburg
Good afternoon at Julian
Reservation Number : 23274
Property Name : Julian Lake
Reservation Date : 03/14/2020 PM -
Total Fish/Sizes : 20 bass
Lures Used : chatterbait, senko
We had a great afternoon at Julian. This was our first time here. I am surprised how little this lake is used by PWF fisherman. The lake was better than I expected.
The dock has been recently rebuilt. The club boat is near new, just be sure to bring a fresh battery. They have a 50lb troller, but no battery. The boat (2 man) is good and has plenty of room.
We caught fish within the first five mins. Most were on the east (deeper) side, but several on the west side too. As usual, the bite depends upon the climate at any given moment.
We met Mrs Julian at the gate, she is a delightful lady. They have installed numerous geese nest boxes all over the lake. The lake is covered with pairs of Canadian geese, and they will talk to you all day. Get accustomed to geese.
We landed 20 fish, culled 16 and released four over 14". Biggest were a couple of 4 lbers. I will certainly re-visit. I encourage other PWF members to give it a go.
Since you are so close to historic Pittsburg, go have lunch or dinner at the Hot Link restaurant. The have great food of all sorts, even vegetarian. It has been in business for over 100 yrs.
3+lber released: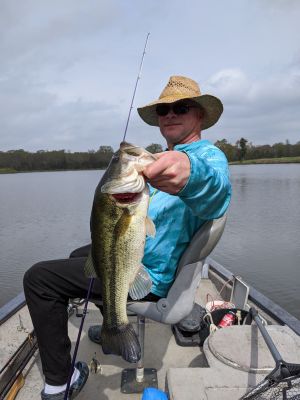 Sam's 3lber: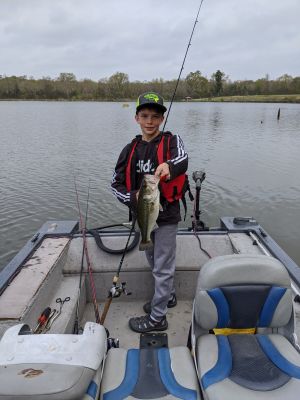 Sam's boat load of culls: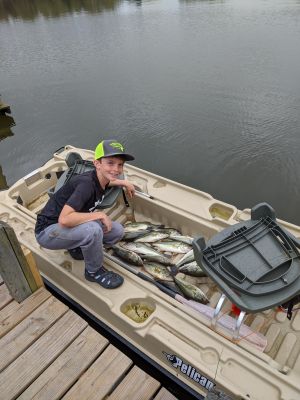 Quick work of culls: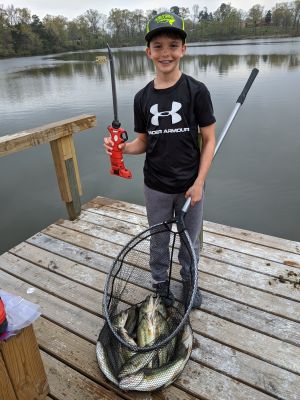 Pittsburg Links and bass filets for the freezer: