Zach Milwood
Fry
Member Since :
2010
Number of Posts : 47
Property :
Cody Ranch Hart Lakes, Coalgate
Another successful Cody Ranch Group Trip in the books!
Reservation Number : 23229
Property Name : Cody Ranch Hart Lakes
Reservation Date : 04/03/2020 All Day - 04/05/2020 PM
Total Fish/Sizes : lots
Lures Used : see below

With all of the craziness going on in the world now, how refreshing was it to join 5 other members and head out to Cody Ranch for 3 days of fishing, fellowship and fun?
THE SETUP
So this trip was setup before the world and got itself crazy. We had 10 members committed, and a decent, if not spectacular, forecast.

And then the world went and got itself crazy. Two had to drop because of shelter in place orders, and two decided to drop due to the risk factor. Understandable, but now we are down to 6 members going. And then there was yet a new development: a massive cold front blowing in the very morning we are arriving.
FRIDAY
We arrive at the ranch about 7am Friday morning to near freezing temperatures, and sustained northern winds of 15-20mph. There was fog coming off the lakes because the water temps were MUCH warmer than the air temps, and there was foam collecting at the south end of all the lakes due to the strong northern winds. Oh yeah, and it was raining/misting almost the entire day. In short, Friday was miserable. Due to the sustained winds, we decided not to put any of the boats in the water. Which meant that we are all bank fishing. Luckily, Cody Ranch has pretty darn good bank fishing. Here is a picture of 3 of us fishing from the Upper Hart bank: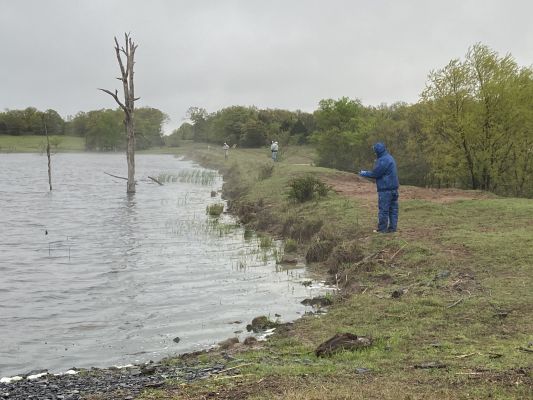 And here is guest Charlie Williams with a catch.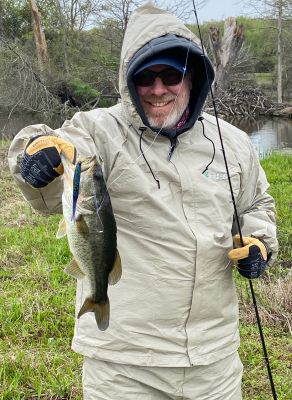 Notice how everyone is dressed? This is not Montana; this is Oklahoma...in APRIL! Our high temp on Friday was 41. However, with the water temps being higher, the fish were not completely lethargic. Chris Edwards caught this nice 6lb girl down at the Lodge Lake.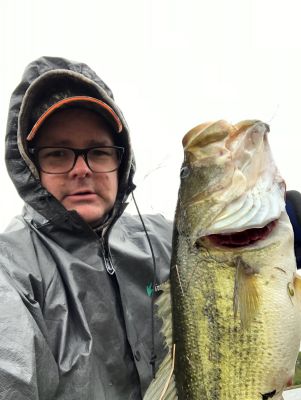 Friday night we enjoyed steak and chicken fajitas courtesy of Mike Lukich, and some Texas Hold 'Em while we thawed out from the day's fishing.
SATURDAY
Saturday was a little better. High temp was a balmy 46! I dubbed Saturday "tolerably miserable". We had noticed on Friday how poorly our fingers were working in the near freezing temps, so my dad and I headed into Atoka on Saturday to buy some gloves, and he needed a new pair of rubber boots. With all the rain they had had recently, things were extremely muddy. And since we were hiking to do our fishing, comfortable boots were pretty much a necessity. The wind abated slightly on Saturday, and probably dropped down to only 10-15mph. :-) There was still some mist and a bit of rain, but it had also lessened from Friday. Our big fish winner for Saturday was also our big fish winner Friday, Chris Edwards. He caught a PERSONAL BEST of 8.5 out of Peach.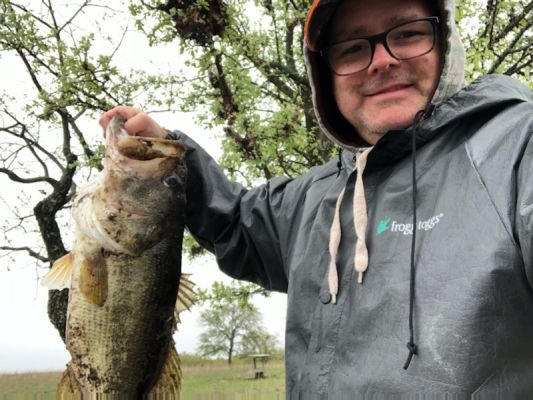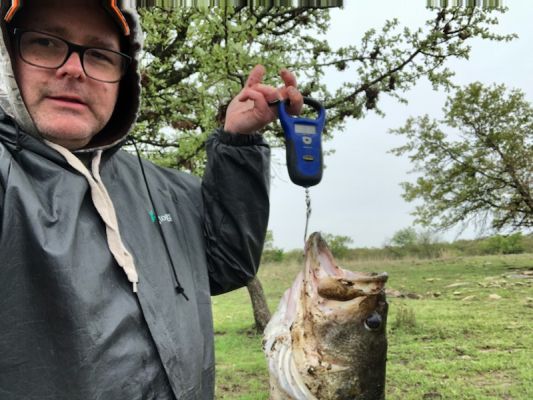 He had broken off two times on her before he finally landed her, and look what he was able to retrieve...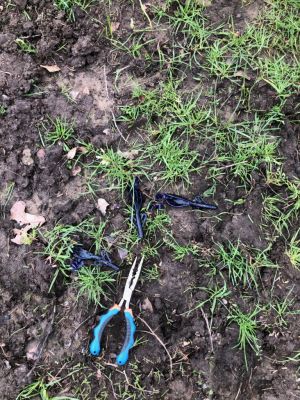 Saturday night my dad and I hosted our 6th annual fish and hush puppy fry, and it was great as always!
SUNDAY
On Sunday our meteorological fortunes shifted and we started the day in the mid-40s and eventually rose to the low 60s! What a blessing that was. I started the morning in 3 layers of clothing and ended up in my t-shirt by the end of the day. The sun finally came out, and we had a great day of fishing. Lots of culls, and lots in the 1.5-3lb range. And we finally put boats in the water! Mike and Jeff Cavitt used the club boat at Upper Hart, and I took my boat to Peach and then Upper Hart. Chris got the chance to put his new kayak in at Upper Hart. However, he didn't get very far since he kept going in circles. When we arrived at Upper Hart and Chris was telling us this story, my friend Charlie suggested he put his rudder down. :-) Doh!
POSTSCRIPT
Cody Ranch is a special place to me, and it is my honor to coordinate this trip each year. Mr. Cody is the most genuine and friendly person you'd ever like to meet, there are 8 lakes which you can fish, and the value is easily the best in the club. Despite the less than ideal weather conditions, everyone caught fish, we ate great, got to meet a few members, and one member added a new personal best. In fact, of my 6 years of doing this trip, Chris's 8.5 is the biggest fish that has ever been caught. So this trip was definitely a success in my book.
The primary lures used successfully were brush hogs, flukes, and topwater frogs. Some fish were also caught on swimbait underspins and Senkos. Below is my honest assessment of each lake (obviously the weather may be a factor):
Moonshine - no one really fished it
Lodge Lake - still the most consistent producing lake of the last few trips I've coordinated, especially in the 3-6lb range
Crab - fished it for only a few hours and caught a few. Can't really make a judgment
Lower Hart - Fished it twice and did okay. Didn't take a boat there because it never would have made it. You definitely needed 4wheel drive and high ground clearance to make it over there, and I'm not talking about with a trailer either.
Upper Hart - Everyone fished Upper this weekend. We harvested the most from this lake, and it definitely needed it. We took 21 out of it, but it could have used 20+ each day. Lots of dinks. Several fish were caught in the 2lb range.
The Twins - This is the saddest to me, because South Twin used to be my favorite lake at Cody. My dad has caught a 7-11 there and I have caught a 7-12. Don't know what if anything has happened to it, but it is very difficult to get bites there. And this has been the case for the past few trips we've done. And North Twin has dried up to almost nothing. Don't know the situation on that either.
If you're still here after reading all that, congratulations! Seriously though, please stay safe and be smart, but live life. I am so thankful for the everyone who was on this trip, even though you could argue there was a risk involved. We had a great time, and thanks again to Mr. Cody for being a gracious and wonderful host at his property.
Zach