Jim Bennett
Slot Fish
Member Since :
2019
Number of Posts : 100
Property :
Bennett Lake, Grapeland
Consistent good results at Bennett
Reservation Number : 24004
Property Name : Bennett Lake
Reservation Date : 04/24/2020 All Day -
Total Fish/Sizes : 1@6lb, 5@3-5lb, 17@2-2.5, 23 culls
Lures Used : fluke, senko, popfrog

Sam and our old friend, Bear, hit Bennett Lake from dawn to dusk Friday. The spawn is pretty much done, and the lake performed in typical good form giving us plenty of chunky fighters. We boated 46 fish total, with 5 in the 3-5lb range, 1 at 6lb 1oz, 17 at 2-2.5 lbs, and 23 culls at 14" and under.
Most were caught inside or at the edge of grass on soft plastic and popfrogs. Normally we do pretty well out deep mid-lake also, but no shad chasing activity this time. The only bites were shallow 2-3 ft. I believe the shad are now up shallow starting their spawn in the grass, hence the bass all shallow.
We were blessed with good weather, moderate winds 5-8 mph and fairly steady bites early and late. We took a 2.5 hour lunch break and grilled fajitas in the shade during the mid-day lull.
Great to catch up with Bear, and he was thrilled to travel home with his Yeti full of culls on ice. A thoroughly enjoyable trip on a great lake.
Froggy 4lb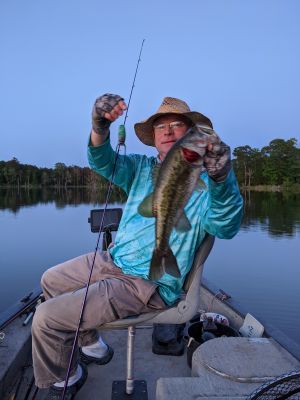 Chunky 3lb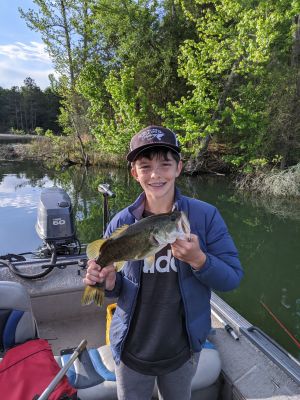 Not bad Sixer: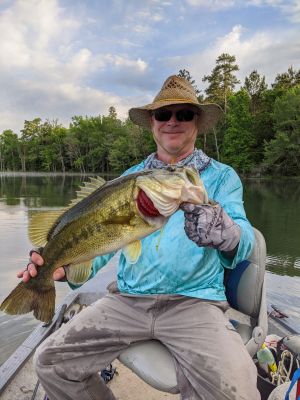 Sam n Bear cull box: