May 27 2020
Larry Maupin
Slot Fish
Reservation Number : 23637
Property Name : Yates Place
Reservation Date : 05/25/2020 All Day -
Total Fish/Sizes : 22 up to 6 lbs.
Lures Used : Watermelon/Pearl Trick Sticks, silver Rattle Trap, Super flukes, pop R
Went with my best fishing buddy Andy to Yates for Memorial Day. Stayed in the roomy and comfortable lodge - it was immaculate as usual. Andy grilled some bison on the BBQ so we had a great dinner. Prepped our rods with topwaters and hit the sack early. Woke up, threw on our clothes and were greeted by a dense deep blue fog over the lake at first light - about 5:45AM. Awesome!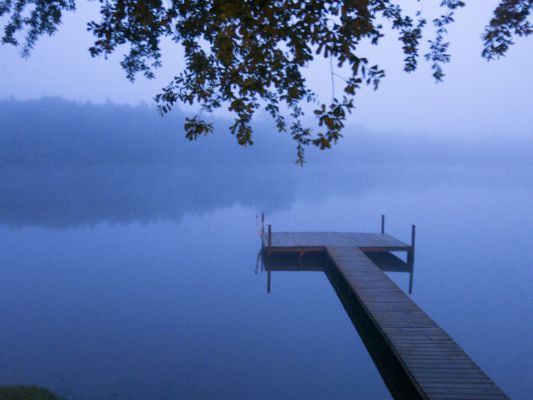 Launched the waiting bass boat (with a recently installed Minn Kota Edge 45 lb hand controlled TM) - worked great all day. Caught 2 quickly in the small bay west of the dock then worked our way around the lake. Topwater bite was slow so we fished soft plastics most of the day. Best areas were the front half of the inlet near the Yates home, northeast side of the big creek from front to halfway back and both sides of the dam.
Forecast for the day was 80-90% chance of rain. It looked better last week, but we were committed. Took rain gear with us but only had 15 minutes of rain. Cloudy to partly cloudy all day.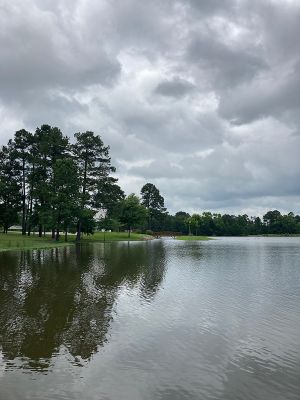 With all the rain I expected muddy water but it was clear and tea stained as always. Took a break about 3:00 to rest up for sundown fishing. Slept a little until a thunderstorm hit. Then an explosive lighting strike! Power was out, Mr Yates checked on us and he called the power company. They arrived and confirmed that lightning had hit the power pole just outside the lodge! Since they didn't need our help, we decided to go fishing. ;-))
We had caught dinks and larger up to 3 pounds throughout the day, and I had lost 4 nice fish for various reasons, so we were ready for something bigger. Didn't need to wait long. Just inside the inlet at Yates' home, I hooked a good fish near shore under a pine tree. Biggest of our day - right at 6 pounds!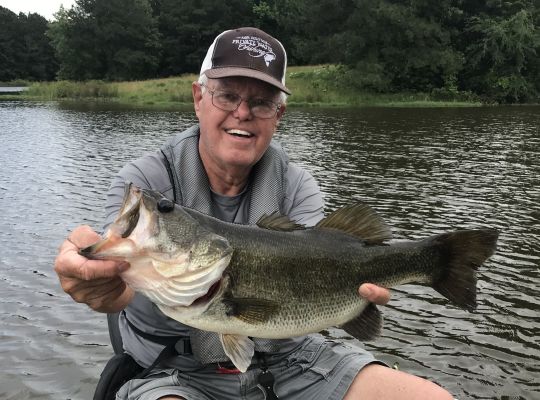 An hour later I caught a 4.3 pounder under a low hanging sweet gum near the dam.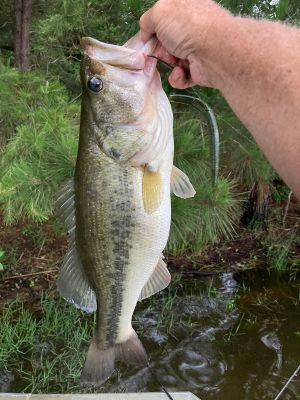 The most productive lure was a new one for me that Andy brought - Big Bite Baits 6" Trick Stick in Watermelon/Pearl. (google it). A bit softer and thicker than a Senko - I love it! So the only "pattern" was overhanging trees - fish were tucked up under there near the shore. All fish were caught not far from shore. Andy caught the first and I caught the most, the biggest and the smallest, but who's counting? LOL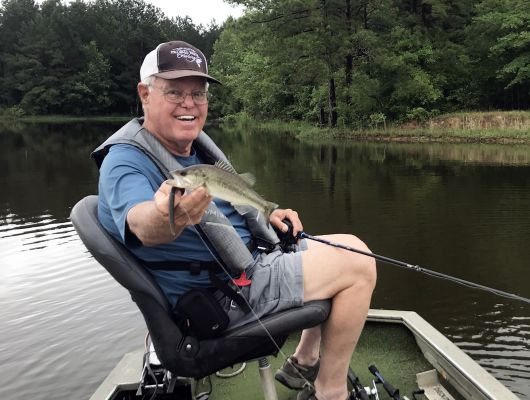 I caught this little guy in the same spot where my wife caught a 9 and a 10 in the same morning 4 years ago!
Andy is a great angler in addition to being a great friend. We had some photo fun with a 3-pounder: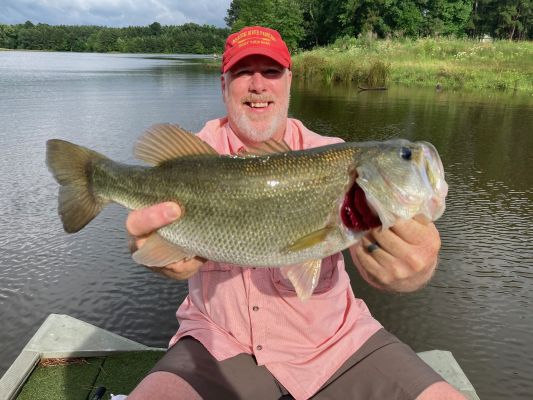 So we were blessed to fish for close to 14 hours with mild weather on a 90% chance of rain day. And we were unscathed by the lightning strike. And we caught about 22 fish in the course of the day. And My Yates was the consummate host as always. We culled 8 bass under 14 inches which Mr Yates offered to filet for us. Awesome! Thank you, Mr Yates (he says "call me D-Wayne".
And thank you, Andy for a fishing day to remember!!!