Mark Daugherty
Slot Fish
Member Since :
2015
Number of Posts : 159
Property :
Kickapoo Lake, Canton
Sunday, Jul 26th - Kickapoo (nice, comfortable break in the weather, productive day)
Reservation Number : 25356
Property Name : Kickapoo Lake
Reservation Date : 07/26/2020 All Day -
Total Fish/Sizes : 32 / up to 3.4 lbs
Lures Used : swim jig, z-craw, senko, lipless, frog
My wife and I fished Kickapoo on Sunday from around 7 to 3 with a break for a shore lunch under mostly comfortable conditions, slight breeze to calm, temps in the 80's, and a good bit of cloud cover until lunch. Lake was close to full, viz up 3', and 87*. Grass was manageable except for a few areas where is was really clingy near the shore. We had a fun time on this pretty little lake - we landed 32 up to 3.4 lbs with quite a few dinks mixed in, but a good number in the 2 to 3 lb range. Harvested 13 and returned 19. Most fish were fairly shallow and in the moss. Not really chasing, but active enough for sure. Did well on white/shad swim jigs, watermelon seed z-craw, green pumpkin senko, shad lipless, a few hookups in the thick stuff on a top toad. The ranch cow dog met us at the gate and she stayed with us the entire day, literally ringing the perimeter of the lake with us, then when we were leaving, she went back to the porch at the house. It was so cute.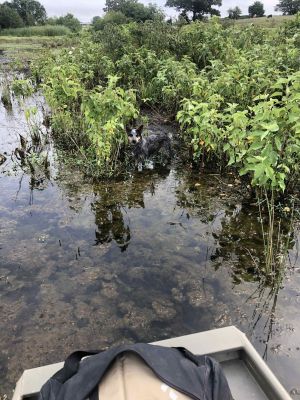 Sweet cow dog wanted to fetch our lures.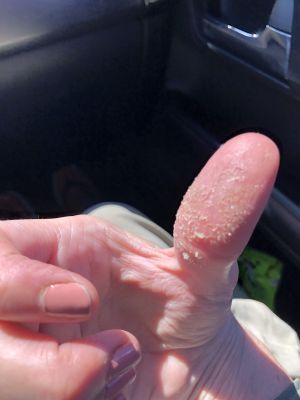 Pam's thumb looked like she was noodling for bass!
But all worth it!