John Daniels
Fry
Member Since :
2019
Number of Posts : 22
Property :
Indian Hollow Ranch, Boswell
Cast and Blast Weekend with Doctor Be Rad
Reservation Number : 25603
Property Name : Indian Hollow Ranch
Reservation Date : 09/06/2020 AM -
Total Fish/Sizes : 53 bass - largest was 3.1 lbs
Lures Used : Wacky, Fluke

I had a group dove hunt scheduled for Bonham, TX for the weekend so I invited Brad Wemhoener to fish Indian Hollow the day after the dove hunt since I would be close enough to wakeup at a reasonable time and fish the lake. We stayed the night at the Lodge at Parker Place in Bonham, TX which has a two acre pond named Lake Joe and sleeps 10 in the main house and can sleep up to 25 total. Its a cool place that I would recommend if you have a group overnight stay. I caught several bass in the pond from the bank just playing around. www.thelodgeattheparkerplace.com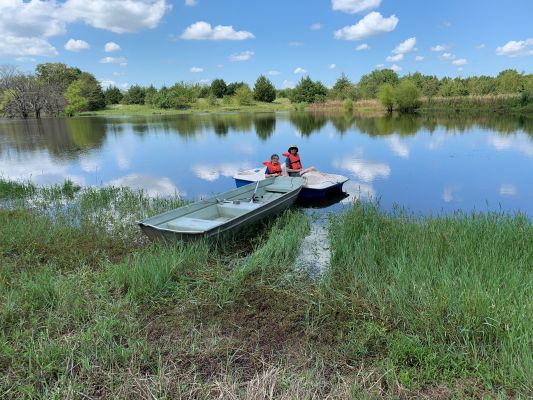 My wife and daughter paddle boating in Lake Joe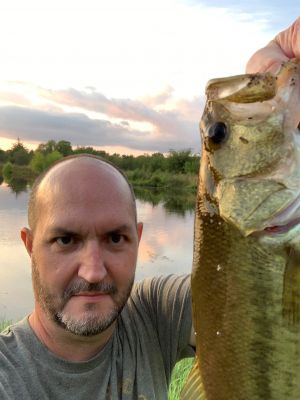 a dink I caught in Lake Joe on the 2nd cast
For the dove hunt the group of 8 hunters got 86 doves west of Sherman, TX on day 1. Day 2 the group of 4 in the morning and 2 in the afternoon got 12 dove near Celeste, TX.
The morning drive from Bonham to Boswell was a tedious, white knuckle drive that involved clipping a dog standing in the middle of the road at some point. Even at the slow speed, we arrived at the lake before sunrise. The ramp is rather steep and unimproved so if there is a hard rain I imagine putting in your own boat would be a mistake.
The fishing started slow for us on top water frogs and buzz baits. Only a few strikes with no catches. As soon as the sun was up enough to spot the grass beds and grass lines I switched to a baby bass colored wacky worm and Brad alternated a 10 inch red worm and a fluke. We started catching 6 inch to 12 inch dinks one right after the other. We averaged a dink every 6 minutes for the morning. We caught four sizable bass, the largest being a 3.1 lbs bass. The most prolific spots were the southwest and northeast coves but we caught fish all over the lake.
We did not fish the smaller pond on the opposite side of the damn.
I love this lake. I hope to get back some day.