Thailand: Spicy Food, Elephants, and Giant Fish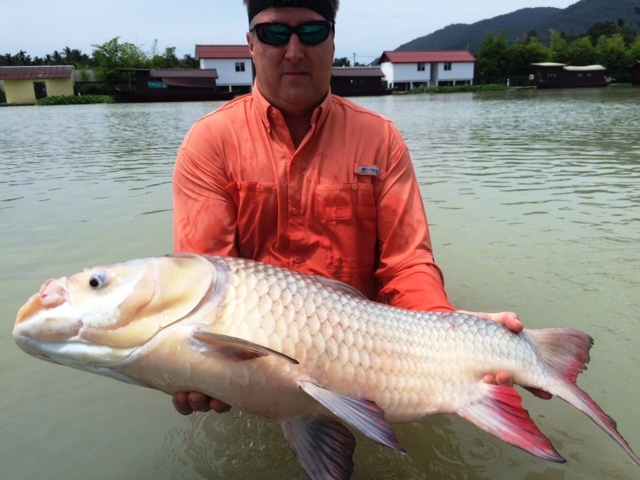 In mid June, my extending family and I (10 of us) took a vacation to Thailand. We had planned the trip for over a year, and it was to be a trip of a lifetime. We spent 14 days in a part of the world I had never been. I had more curry, vegetables, and spicy stuff in 2 weeks than I normally would over the course of a year. We spent 3 days in Bangkok (17 million people), 5 days in the jungle area of Chaing Mai, and 5 days on a small resort island of Koh Samui.
Memorial day weekend I celebrated my 50th birthday by tearing my patellar tendon playing basketball with three 17 year olds. A week later, and just two weeks before our planned trip to Thailand, I was laying on the surgical table to repair the tendon. To my surprise, my orthopedic surgeon cleared me to go on the trip, but warned I wouldn't have much fun and would spend most of my time in the Hotel room with my leg elevated. He said if I even attempted to ride an elephant, something popular to do in Thailand, that I shouldn't bother coming back to see him as he would no longer call me a patient. I made the trip and despite the leg being painful and just flat dead weight, I was able to do most things the family did with the exception of scuba diving, zip lining, and of course NO elephant riding.
One day while seated a small road side Thai restaurant; eating more curry, vegetables and other spicy stuff, I saw a pamphlet holder with a fishy looking brochure. As I began to read, I learned that a man had built a 6 acre private lake in the middle of a small island off the coast of Thailand, and had opened it up for day fishing. I went back to our Hotel and asked the Hotel staff to call. Much to my surprise, they handed me the phone and I was talking to a guy from London who fell in love with Thailand and built his own private lake for his own personal use. After 5 years of keeping the lake to himself, he made it available to the public for day fishing. I asked a few questions, and told him I had been looking at a charter boat trip. He said those are great if you want to catch fish the size of your hand, but if you want to catch 50 to 200 lb fish come see me. I booked a trip for the next day.
Honestly, I wasn't expecting much. After all, how many giant fish can a 6 acre lake hold? When I arrived, I was shocked to see 6 other people on the lake with myself and my nephew. I thought to myself, "there is no way this lake can handle all this pressure." The owner told me that this is the low season, and he typically has 20 people fishing each day. This tiny little lake had 4 cabins and 4 house boats, which slept up to 24 people. He often had guests who stayed 2 weeks fishing this 6 acre lake. This lake has a concrete 15 foot walkway all the way around the shoreline, and more than a dozen covered pavilions with king beds, a swimming pool, and a restaurant.
Prior to the trip I asked what to expect in terms of numbers and size. He told me 3 to 5 fish per person, depending on skill level, and all the fish would be 30 lbs or bigger. I thought to myself, "if I catch 2 fish and at least one was 15 lbs, I will be happy." I know that fisherman tend to exaggerate, and I expected that was the case here. For just $100 per person, we fished for 6 hours and caught 7 fish between us; loosing 2 additional fish. Each fish we caught was a minimum of 40 lbs, with the largest fish weighing 90 lbs.
Now, back to the bad leg. Remember, I had surgery on the darn thing just 3 weeks ago, so I had to fight these behemoths on one leg. WOW WHAT A FIGHT!!! In fact, I fought the last fish I hooked for 12 minutes before my leg gave out and I had to hand the rod to my nephew to fight it the last 4 minutes. We caught Siamese Carp and MeKong Catfish, but missed out on the arapama, alligator gar, and red tails. No fish caught at this lake ever comes completely out of the water, but instead the fish (now exhausted as the angler is) is carefully unhooked by one of the guides, and held in the water that is just 3 feet deep along the shore. The guide has a specially designed net that he uses to hold the fish after he unhooks what amounts to a whacky sized (tiny) hook. I'm still amazed that such small hooks landed these giant fish. I won't even go into detail about the rigging and bait used to catch these fish as it was very complicated. These fish are babied after you catch them. The guide pours an iodine concoction over the gills, puts the fish over aeration bubblers which surround the entire lake, and release the fish after resting it for 3 to 4 minutes. I still have no idea how a 6 acre lake can hold that many giant fish, or how they continue to bite every day. There was a husband and wife twosome who caught a 250 lb arapama while we were there!!
I thought the owner might have some interest in what we do in the United States, after all there are not too many guests of his that also own a private lake fishing business, but he seemed less than interested. In fact, I asked for a video interview, as I thought our members would find this place fascinating, but he declined. It was a totally unique fishing trip, and if you look it up on Trip Advisor the reviews are through the roof. If you are going to Thailand, you need to put this on your bucket list. www.fishinginthailand.com